Browse Port Royal Real Estate Listings
WELCOME TO PORT ROYAL
LUXURY WATERFRONT PROPERTIES AND BEACHFRONT HOMES IN PORT ROYAL
Naples, Florida is known for many things, one of which is the magnificent, luxury homes that stretch along the beach and bay area known as Port Royal. As a peninsula, the southernmost tip of Naples has the good fortune of having the glorious Gulf beaches to the west and the Bay of Naples to the east. As a result, Port Royal is known for having exceptional waterfront properties; some sitting directly on the beach, others on wide, deep water canals or Naples Bay, affording

direct access to the Gulf Of Mexico through Gordon Pass. Ask anyone who has taken a scenic drive through Naples in the past forty years what area of Naples they remember most vividly, and they will most likely say "the mansions in Port Royal". As a spectacular testament to luxury lifestyles ranging from casual elegance to regal sophistication Port Royal is an architectural showcase.

With only 500 or so homes in the non-gated neighborhood of Port Royal, the geographical, waterfront advantage comes at a stiff price. Lot sizes in Port Royal typically run from about a third to just over a half an acre, though many of these luxury homes are so large, they required two full lots or even more. Prices for a home in Port Royal, Naples, begin at about $2,000,000 for an older, modest home to more than$22,000,000 for a 9000 square foot palatial estate home situated on two manicured, parklike acres of prime beachfront property.
PORT ROYAL BEACHES
Walk the sugar sand beaches of Port Royal and you will be awestruck by both the profound beauty of nature and the quintessence of material wealth. Statuesque homes of all shapes and sizes overlook the beautiful Gulf waters, teeming with fish and the occasional manatee as short legged Sandpipers run along the shore pecking at colorful Coquinas surfacing in the sand.
PORT ROYAL FOR BOATING
Port Royal is a boater's paradise, with many enjoying unrestricted Gulf access from a boat dock right at their own back door or watching the glorious setting sun as it melts into the Gulf, just steps away from their lanai or pool deck. Whether your passion is back water fishing, competing in local regattas or a sunset cruise on your motor yacht, you can find the perfect luxury home for a boating enthusiast in Port Royal.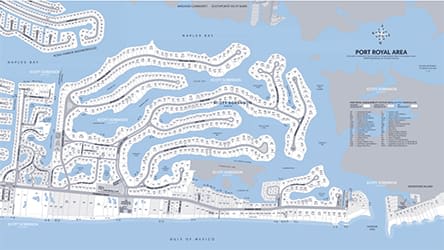 Port Royal Real Estate Map - Naples Florida
PORT ROYAL CLUB
Most addresses in Port Royal qualify for membership in the exclusive Port Royal Club, which is a hub of social activities for many Port Royal residents. With tennis courts, a beachside swimming pool, and exquisite dining rooms known for outstanding food, understated elegance and lavish parties, The Port Royal Club is like the Grande Dame of country clubs in Collier County.
BUYING A HOME IN PORT ROYAL, NAPLES FL
It's always wise to work with a Realtor® who can help you make an informed decision about buying real estate. Ask Scott Sorenson for advice before you begin your search for the perfect, luxury property in Naples, Florida.
Browse Other Communities
>
WORK WITH US
Our 45+ years of real estate experience in luxury properties as an agent, is enhanced with additional 30 years of experience from Mimi, as Architect & Licensed High-End Interior Design experience in Naples, helping us understand how to evaluate floor plan, building, and potential design when you evaluate the price of a property and future changes.
CONTACT US
MEET THE TEAM
Start searching for your dream home now.
When it comes to convenience, our site is unparalleled. Whether you're in the comfort of your home, or on the go.
Our site works flawlessly on multiple devices so you can find the information you need.
Start Search