Olde Naples Real Estate Statistics
| | |
| --- | --- |
| Average Price | $3.5M |
| Lowest Price | $6K |
| Highest Price | $88M |
| Total Listings | 171 |
| Avg. Days On Market | 120 |
| Avg. Price/SQFT | $733 |
Property Types (active listings)
Browse Olde Naples Real Estate
Welcome to Olde Naples
Once a sleepy Gulf Coast fishing village, Old Naples has evolved into a cosmopolitan, seaside mecca of fine restaurants, exquisite shops, pristine beaches and incredible weather. For the golfing enthusiast, Naples is a haven of heavenly courses, both private and public.
Luxury real estate offerings can be found up and down the coastal area of Old Naples which is the area unofficially described as being located between Naples Bay and the Gulf of Mexico, and from the Naples Beach Hotel and Golf Club at the north end roughly to the Naples Pier as a southern boundary.
It's hard not to marvel at the dichotomy of lifestyles found in Old Naples. You will be drawn to both the quaint charm of guest cottages nestled in between Coconut Palms or flowering Hibiscus and the statuesque luxury estate homes with their lushly landscaped yards and perfectly sculpted hedges.
Luxury Houses and Single-family Homes in Olde Naples
You'll find a wide array of real estate in Olde Naples. Many of the original Old Naples cottages still dot the landscape, some of which have been deemed historical sites. Old Naples also offers an eclectic blend of mega mansions and modest single story ranch style homes.
Prices vary greatly with the design elements, lot size and proximity to the Naples beach. Currently, single family homes in Old Naples range in price from a newer, custom 7300 square foot, beach-front luxury home with 5 bedrooms and 7 baths boasting nonpareil Gulf views priced at $13,900,000 to a 35 year old 2 bedroom 2 bath bungalow on a corner lot, located eight blocks from the beach with a price tag of $550,000.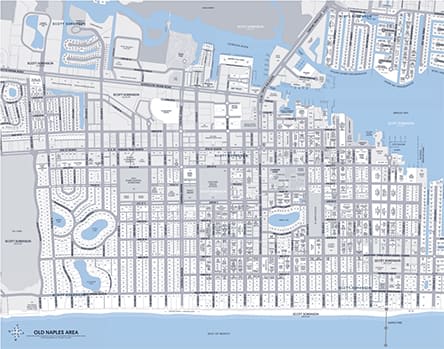 Olde Naples Real Estate Map - Naples Florida
Luxury Condos in Olde Naples
When buying real estate in Naples, Florida, many choose to forego the traditional single family home and opt for a more 'maintenance free' lifestyle. The Old Naples luxury condo market is still very active and the choices very diverse.
A completely renovated 1200 square foot luxury condo touting a gourmet kitchen and garage, located within walking distance of the beach and Fifth Avenue shopping can be purchased for around $520,000. A more spacious Old Naples condo or villa in the same area will fetch upwards of $2,000,000 for 3200 square feet, top of the line accoutrements, a private pool and two car garage.
No matter what lifestyle you choose in Old Naples, Scott Sorenson will help you make an educated decision regarding the lifestyle, amenities and price point that best suits your needs.
Amenities in Olde Naples
Begin or end your day with a stroll along Fifth Avenue South or Third Street South, browsing the many galleries and specialty shops. Both of these Old Naples areas offer a rich blend of high end shopping and trendy restaurants, some of which offer happy hour entertainment or after-dinner dancing.
Enjoy a wide selection of casual or fine dining venues. Whether you prefer a fresh cup of coffee and a pastry at a sidewalk cafe, a quiet candlelit dinner in an elegant dining room or feasting al fresco where the people-watching is almost as delicious as the local fare, Old Naples can satisfy your quest for fun and wonderful food. The only thing better than visiting Old Naples is actually living there!
If you are even thinking about buying or renting a luxury property in Naples, Florida, ask Scott Sorenson for advice. Not only will he give you the benefit of his vast knowledge of the Naples luxury real estate market, but he can point you in the right direction for the freshest seafood, most extensive wine list or the best steak in town. Call Scott today and allow him to do the footwork while you walk the beach or the back nine at one of Naples' spectacular golf courses. Call: (239) 9190-0047 or email: scottlsorenson@gmail.comYou can also leave us a message here.
Browse Other Communities
>
WORK WITH US
Our 45+ years of real estate experience in luxury properties as an agent, is enhanced with additional 30 years of experience from Mimi, as Architect & Licensed High-End Interior Design experience in Naples, helping us understand how to evaluate floor plan, building, and potential design when you evaluate the price of a property and future changes.
CONTACT US
MEET THE TEAM
Start searching for your dream home now.
When it comes to convenience, our site is unparalleled. Whether you're in the comfort of your home, or on the go.
Our site works flawlessly on multiple devices so you can find the information you need.
Start Search