Aqualane Shores Real Estate Statistics
| | |
| --- | --- |
| Average Price | $8.5M |
| Lowest Price | $9.7K |
| Highest Price | $29.5M |
| Total Listings | 56 |
| Avg. Days On Market | 184 |
| Avg. Price/SQFT | $1.5K |
Property Types (active listings)
Browse Aqualane Shores Real Estate Listings
Welcome to Aqualane Shores
Discover Aqualane Shores, a hidden gem nestled in Naples, Florida. This laid-back neighborhood is where classic Florida charm meets luxury living. Imagine waking up to the tranquility of sparkling waterways, hopping on your boat docked right in your backyard, and cruising down to the Gulf of Mexico in minutes. Sounds like a dream? Well, that's everyday life in Aqualane Shores.
Housing some of Naples' most sought-after real estate, Aqualane Shores is a mix of grand waterfront estates and cozy, elegant homes, each boasting unique architectural flair. What's more, you're just a stone's throw from the white sandy beaches, world-class golf courses, and upscale dining and shopping of Naples.
In Aqualane Shores, you're not just buying a home, you're joining a warm community and claiming a lifestyle where sun-drenched days, waterside BBQs, and breathtaking sunsets are your new normal. Whether you're a boating enthusiast, a beach lover, or simply crave a serene coastal escape, Aqualane Shores is your idyllic slice of paradise.
Waterfront Luxury Homes in Aqualane Shores
Quiet cul-de-sac streets lined with towering palm trees present an atmosphere of a small, waterfront community off the beaten path, yet Aqualane Shores is just a few blocks from Naples' sugar sand beaches. Many of the original homes built here in the sixties and seventies have long since been razed for more modern, often multi-storied homes with varied architectural influences from Mediterranean, to Contemporary, and Olde Florida to Mission styles.
Most of Aqualane Shores' luxury homes have docks and seawalls but many have actual boat slips carved into the water's edge to provide a safe and convenient mooring for various types of boats. Whether you prefer a 32 foot Catamaran or a 54 foot motor yacht, you will enjoy having your own private dockage right at your back door in Aqualane Shores.
In Aqualane Shores you can expect to find homes ranging in price from about $1,700,000 for a smaller, more modest home built in the late seventies to over $6,000,000 for a three year old exquisitely finished luxury home with over 7000 square feet of living area. Aqualane is ideal for the sophisticated boating enthusiast who is looking for a luxury home in a quiet, beautiful, waterfront neighborhood of understated elegance.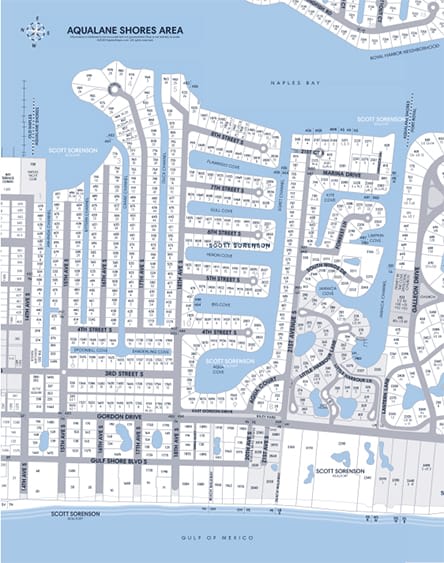 Aqualane Shores Real Estate Map - Naples Florida
Amenities in Aqualane Shores
In Aqualane Shores, it's all about living the good life, and the amenities here certainly step up to the plate. First, let's talk water access. Most homes here come with private boat docks, so you can embark on a Gulf adventure any time the mood strikes. Fancy a little deep-sea fishing? Maybe a serene sunset sail? You've got it, right at your doorstep.
But the perks of Aqualane Shores go beyond the aquatic. You're nestled right next to the heart of Naples, meaning you've got the city's finest at your fingertips. Try the Third Street South shopping district for some retail therapy, where boutique stores offer everything from high fashion to unique home goods.
Hungry? There's a culinary world to explore, from gourmet seafood joints to cozy Italian bistros, and hip coffee shops for that morning brew. And when it comes to greens and fairways, Naples' top-tier golf courses are just a short drive away.
Not to forget, you're practically neighbors with Naples' renowned white-sand beaches. Sunbathe, paddleboard, or simply enjoy a good book while the waves lap the shore. In Aqualane Shores, it's not just about having it all, it's about enjoying it all - in your own sweet time.
Luxury Real Estate Advice For Aqualane Shores
Ask Scott Sorenson for advice on how to make an offer to purchase a luxury home located in Aqualane Shores; you'll be glad you did. You can thank Scott for his expertise with a boating/fishing adventure on your own boat, embarking from your own dock right at the back door of your luxury waterfront home located in wonderful Naples on the Gulf.

Interested in buying or selling a home in Aqualane Shores, FL? Call Scott Sorenson at (239) 9190-0047 or email: scottlsorenson@gmail.com. You can also leave us a message here and we'll get back to you as soon as possible.
Browse Other Communities
>
WORK WITH US
Our 45+ years of real estate experience in luxury properties as an agent, is enhanced with additional 30 years of experience from Mimi, as Architect & Licensed High-End Interior Design experience in Naples, helping us understand how to evaluate floor plan, building, and potential design when you evaluate the price of a property and future changes.
CONTACT US
MEET THE TEAM
Start searching for your dream home now.
When it comes to convenience, our site is unparalleled. Whether you're in the comfort of your home, or on the go.
Our site works flawlessly on multiple devices so you can find the information you need.
Start Search